The Kitchen Is The 3rd Room That You Go In After The Bathroom. there Is A Hanging Doll, Some Suitcases And A Calendar In The Kitchen. When You Click On The Calendar, Somewhere On The Calendar Is A Date Circled And Next To It It Says "Cancer Treatment". Click On The Doll And The Calendar An Odd Number Of Times An Then Someone Appears From The Door. Click Again The Doll And calendar And There Should Be A Shadow Walking. Again Click The Doll And Calendar And A Card Should Fall From The Ceiling. Click On It And It Says, "St Martin Scotte School. Student ID Card. Miss Maria. S. Julie. Valid Form: 1980. Expires: 1983. The ID Code Is Below The Name. Once You Click On The 3 Items Again A few Times, A Girl's Body Should Come Hanging From The Ceiling. That Is Maria. S. Julie And Then The Level Is Complete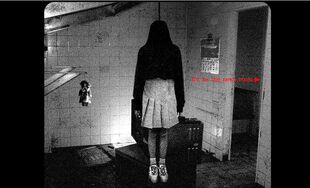 Ad blocker interference detected!
Wikia is a free-to-use site that makes money from advertising. We have a modified experience for viewers using ad blockers

Wikia is not accessible if you've made further modifications. Remove the custom ad blocker rule(s) and the page will load as expected.